Beading stitches are the foundation of jewelry making. They come in a variety of styles, each with its own unique benefits and drawbacks.
The best way to learn about these stitches is to experiment with them and see what works best for your own jewelry designs. In this blog post, we will discuss the different types of beading stitches and their uses in jewelry making.
Types of seed bead stitches
Beading is a form of art that uses small, colorful beads to create decorative designs. There are many different ways to bead. We've put together a list of basic bead weaving stitches to help you get started:
1. Ladder stitch
This stitch is often used to create a beaded ladder or a beaded rope. It can be used on its own or as base raw (or first raw) in other stitches, such as brick stitch or herringbone beadwork.
2. Square stitch
Square stitch is a versatile technique that can be used to make simple or complex pieces of jewelry. The beads in this stitch are aligned horizontally and vertically with no offsets. You can use this stitch to create designs that look similar to loom beadwork projects. To do square stitch, you will only need beads, a needle, thread and scissors.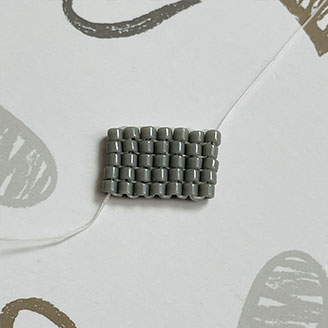 3. Herringbone stitch
Herringbone stitch is a popular type of beading stitch. It is similar to the straight stitch, but it produces a more decorative effect. This stitch generates two columns of beads in a nearly V shape, resembling the bones of a herring fish. As a result, it's known as the herringbone stitch. It can be used to create a zigzag pattern or complex designs.
4. Peyote stitch
Peyote stitch is a bead weaving technique that can be used to create a variety of jewelry pieces. It is a popular stitch because it is relatively easy to learn and can create stunning results. It can be used to make beaded bracelets, necklaces, earrings, rings and more.
The peyote stitch is worked in flat or tubular form. With a little practice, you will be able to create beautiful pieces of jewelry with ease.
Tips!
To get started with the peyote stitch, you will need a few supplies. First, you will need some seed beads in a variety of colors. You will also need a beading needle, a stopper bead and some thread. When choosing your seed beads, it is important to select beads that are the same size. This will help to ensure that your jewelry piece looks neat and professional.
There are two main types of stitches that are used: even and odd. Some beaders prefer to use odd count peyote stitch as it gives a more textured look to the finished project. It can also be a little bit more challenging to learn than even count peyote stitch.
There are a few things to keep in mind when working odd count peyote stitch. Firstly, it's important to keep track of the number of beads you have used, as you will need an odd number of beads for each row. Secondly, make sure that the last bead in each row is always a half stitch bead. This bead will be used to join the next row.
Tips!
Odd count peyote stitch is the perfect choice if you want to make patterns that have centered focal points.
Whichever type of peyote stitch you choose to use, the basic techniques are the same. Once you have mastered the basic stitches you will be able to create beautiful beaded projects.
Even-count peyote stitch
Odd-count peyote stitch
5. Brick stitch
Brick stitch can be used in a variety of jewelry making projects. This stitch can be worked with any size beads to create simple or intricate designs, and is often used to make geometric patterns. By increasing or decreasing the number of beads in a row you can create different shapes, such as triangle, diamond.
In order to learn how to use brick stitch, you'll need to understand the basic steps involved in the process.
Brick stitch and peyote stitch are both very versatile stitches, and can be used to create a variety of patterns in beadwork. However, there are some key differences between these two stitches. Read more here: What is a brick stitch in beading?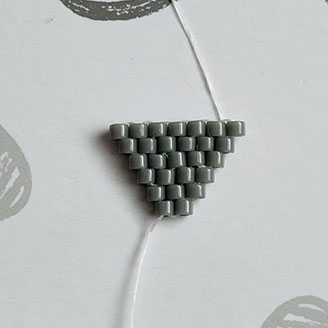 6. Spiral stitch
Another popular type of stitch is the spiral stitch. This stitch is used to create spirals and curves, and it is a great choice for adding interest to jewelry designs. The spiral stitch is also a popular choice for creating earrings and pendants.
7. Right-angle weave
The right angle weave stitch (RAW) is a versatile technique that can be used with many beads, including seed beads, Delicas, and Czech fire-polished beads. This stitch is a great way to expand your creative horizons and create intricate designs. The gaps between its beads allow to embellish your jewelry pieces with a variety of beads.
You can also try one of its variations once you're ready to move beyond basic RAW. The RAW stitch is available in cubic, prismatic, tubular, and other variations.
Beading stitches for beginners
There are a few basic beading stitches that every beginner should learn. These stitches will help you create simple beaded jewelry pieces and give you a foundation for more complex stitches. You can begin by learning ladder stitch, square stitch, brick stitch, and peyote stitch, then progressing to other beading techniques as you gain skill.